Auction Finds of the Week: Brass, Bronze, Pewter, Oak & Oil Paint
by Kelly Keating on 07/11/19
Happy Summer!
Auction Finds of the Week
from
The Antique Flâneur
returns with brass, bronze, pewter, oak and oil paint from two upcoming auctions: Auctions at Showplace in New York City on 14 July 2019 and Friday Afternoon at Stair in Hudson, New York on 19 July 2019.
Brass. This week's first find is Lot 41 at Showplace a brass torchiere in the manner of Paavo Tynell with a pre-sale estimate of $600-800. Paavo Tynell (1890-1973) was a Finnish designer who is best known for his lighting fixtures and lamps. He designed the lighting for the office of the Secretary-General of the United Nations in New York and for the Parliament House and the Lasipalatsi building in Helsinki, Finland. The torchiere stands 61 inches high x 7.5 inches wide and rests on a tripod base. The brass shade is pierced with groupings of 3 holes. Elegant and sleek, this floor lamp could work in a variety of settings from traditional to modern.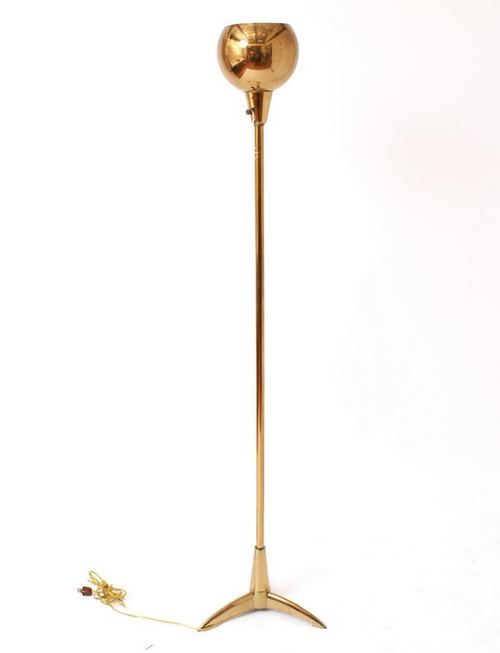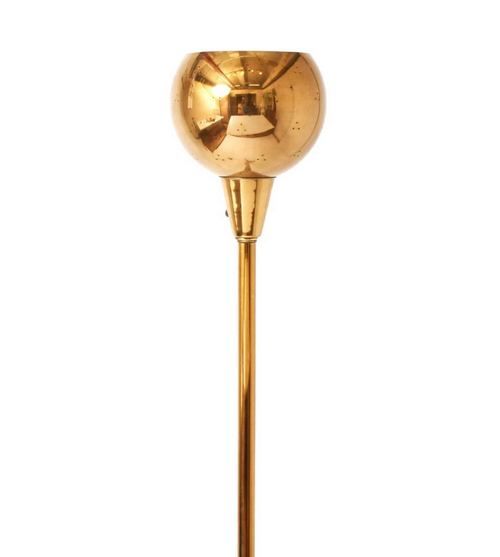 Bronze. Next, another item from the Showplace auction, lot 79, a pair of bronze mid-century Sputnik lamps attributed to Arturo Pani with a pre-sale estimate of $1,000-2,000. Arturo Pani born in 1915 was the younger brother of the prominent Mexican Modernist architect Mario Pani. He graduated from the Ecole des Beaux Arts in Paris and returned to Mexico in 1935. Pani was hired as the Senior Designer of the decorating company De La Pena, Lascurain y Compania designing furniture and interiors for salons and lobbies. He soon earned the reputation as the designer to the elite of Mexico. He created the "Acapulco Look" in the 1950's leading to international recognition. The bronze Sputnik lamps standing 34 inches tall x 28 inches in diameter are both whimsical and sophisticated. Imagine them on a sideboard or a modern console where they would be the dynamic focal point of the room.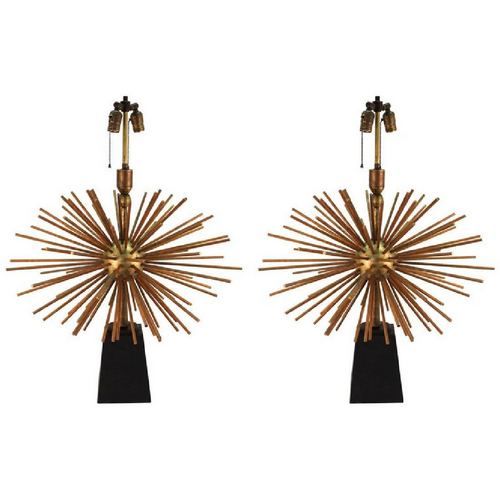 Pewter. At Stair Lot 72 is a group of pewter wares consisting of plates, candlesticks, tankards, casters and salts with a pre-sale estimate of $300-500. Pewter has a warm and subdued matte finish unlike the hot shininess of silver. These items would look great in a more traditional kitchen or kitchen-great room in a wooden or white cupboard.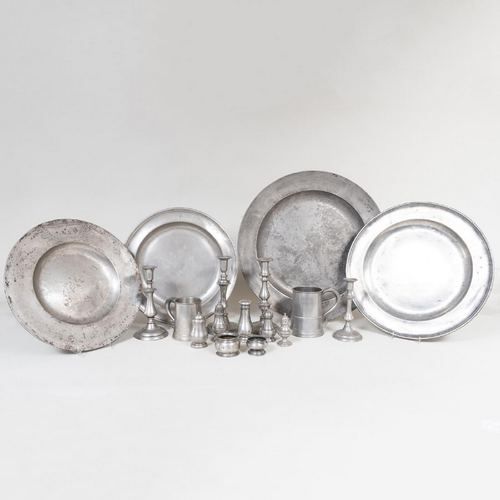 Oak. The previous group of pewter wares would look quite at home on Lot 177 at Stair a large Welsh oak traditional dresser measuring 85.75 inches high x 94.5 inches wide x 18 inches deep. The dresser has a pre-sale estimate of $1,500-3,000. This piece would make a great focal point for a kitchen or kitchen-great room.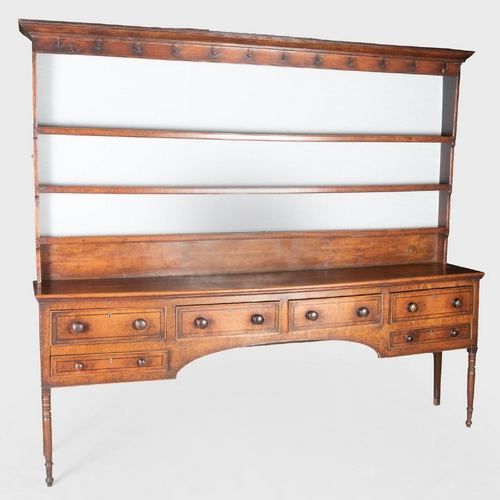 One could also fill this oak dresser with English mochaware from the 18th and 19th centuries. Mochaware with its geometric patterning and decoration has a decidedly modern look while still being a bonafide antique. Here is an example of some mochaware showing its great variety: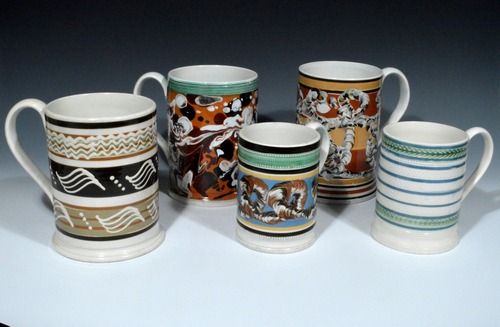 Oak 2.0. This week's next find is also made of oak and is being sold at Stair. Lot 71 is an English Arts and Crafts oak settee with a pre-sale estimate of $600-800. The settee measures 44 inches high x 36 inches wide x 21.5 inches wide and would certainly complement the Welsh oak dresser discussed above. Both could be used in a large traditional kitchen or kitchen-great room. The settee could be used as seating at a rustic table mixed perhaps with an odd grouping of chairs.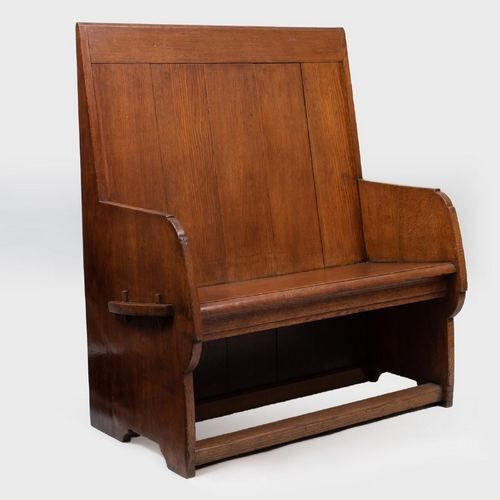 Oil paint part 1. At Showplace Lot 70 is an oil on canvas mid-century modern painting entitled "Birds" done in 1946 by William T Snaith with a pre-sale estimate of $400-600. The painting evokes a 1940's-1950's decorative sentiment with the abstract depiction of eight birds on a heavily worked surface in blues, greens and reds. Framed the work measures 21 inches H x 16.75 inches wide. A good looking, affordable work for a mid-century inspired living room or dining room.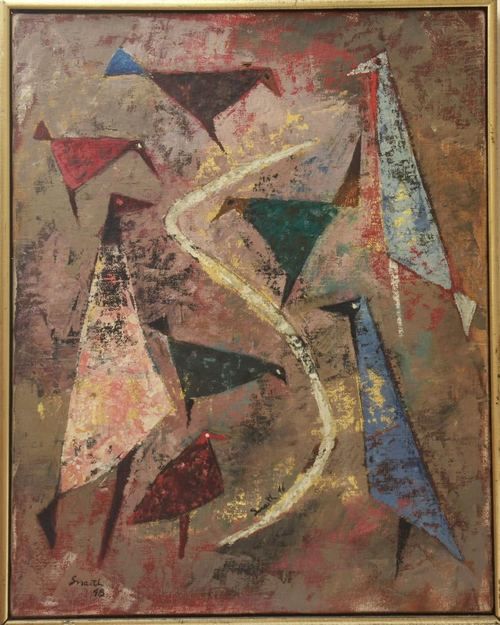 Oil paint part 2. Also at Showplace, Lot 32 is a small oil on board painting entitled "Woodpeckers" done in 1998 by
Hunt Slonem
(b. 1951-) with a pre-sale estimate of $1,500-2,500. The work is characterized by its abstract rendering of the two birds and areas of heavy impasto which creates a vibrant, dynamic and lush image. The image measures 9.5 inches high x 7.5 inches wide and framed 14 inches high x 12 inches wide.
I hope you enjoyed this Auction Finds of the Week. Attractive, stylish and functional furnishings can be found at many auction houses. Auctions at Showplace in New York City and Stair in Hudson, New York are two great local houses that always have interesting and intriguing items for sale.
I am an accredited appraiser in silver with the Appraisers Association of America and USPAP compliant. I can meet all your appraisal needs for market assessment, insurance, estate and donation appraisals. Take a look at the
Services
page on my website to see how I perform appraisals and work with clients.
Until next time,
Kelly T Keating