Some Fabulous Finds Down in Louisiana: March Major Estates Auction at New Orleans Auction Galleries
by Kelly Keating on 03/21/21
Welcome back to
Auction Finds of the Week!
This week I perused the March Major Estates Auction at the
New Orleans Auction Galleries
and discovered some fabulous objects: furniture, silver, rugs, lighting and garden ornaments. The New Orleans Auction Galleries never disappoint in the lots they offer for sale. The March Major Estates Auction will take place on 27 and 28 March 2021 at 11am EDT. Let's take a look what I found.
The first discovery, lot 7, is a pair of 20th century Neoclassical style polychrome cabinets with a pre-sale estimate of $1000-1500. The cabinets have molded concave cornices above a conforming case which is fitted with 2 glazed doors that open up to a shelved and mirrored interior. The conforming lower section of the cabinets have a faux marble top over 2 paneled cupboard doors. The whole of each cabinet raised on a plinth base. Each cabinet measures 90.5" high x 38" wide x 22.5" deep. The cabinets are a lovely aged blue/green color like when copper oxidizes. Lately, I have been obsessed with this blue/green color and these cabinets certainly whet my appetite for this color.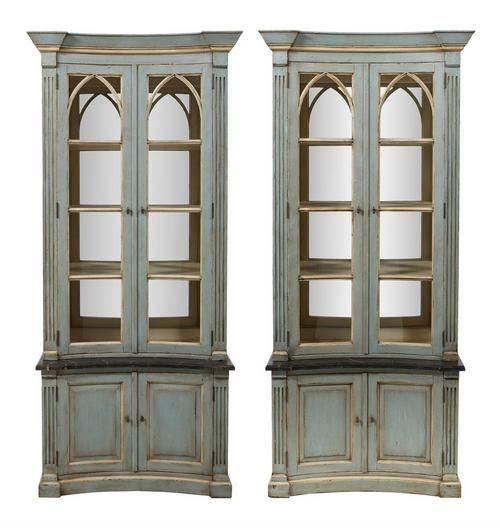 Easter will be here before we know it and though we probably cannot have the same holiday gatherings as in other years, we certainly could make the occasion memorable with lot 283. a German novelty rabbit silver cocktail shaker with a pre-sale estimate of $3500-5000. This contemporary cocktail shaker made by Ludwig Neresheimer Co. of Hanau is in the form of a realistically detailed European hare who is seated on its haunches. The hare's mouth with a faux "stopper" fitted with a chained stopper with a carrot. The head is fitted with glass eyes and removing the head reveals a detachable strainer. The Easter Bunny has nothing on this Drunken Hare!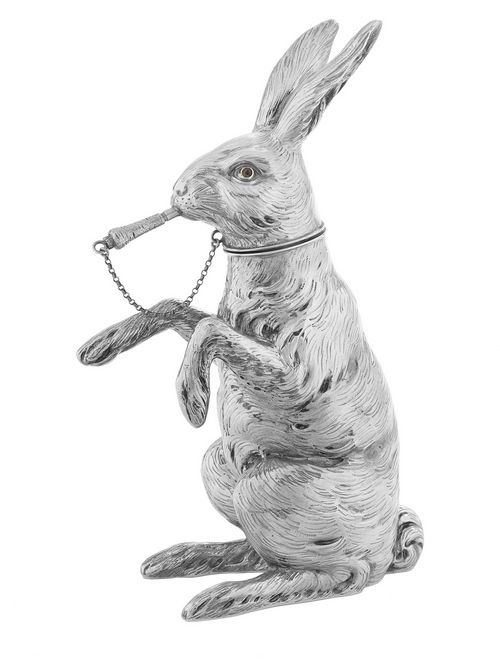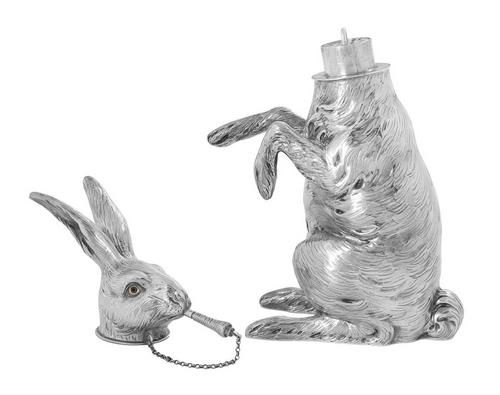 The third find, lot 948, is a wonderful early 20th century cast cement ornament signed "PCS" for the garden with a pre-sale estimate of $1000-1500. The ornament depicts 3 cherubs or putti "frolicking" according to the catalogue listing. While they might have been frolicking and playing previously, this garden ornament actually depicts the aftermath in which the central putto appears to be fainting and is being supported by their companions. It is really not a joyful scene or narrative. It would certainly add a note of gravitas to your garden with the trio nestled in some tall grasses or a bed of flowers. The trio of cherubs measure 23" high x 20" wide x 10" deep.
From tragedy to triumph...a spectacular and rare Art Deco gilt bronze sunburst chandelier circa 1925-1950, lot 806, with a pre-sale estimate of $2000-4000. The chandelier consists of 11 lights with a large sunburst backplate overlaid with a smaller sunburst concealing a halo of light sockets and another central socket in a molded "cloud". The chandelier measures 6" high with a 26.5" diameter of the larger sunburst. This chandelier would be the central element of any dining room and think of the myriad of reflections of the light off the gilt bronze.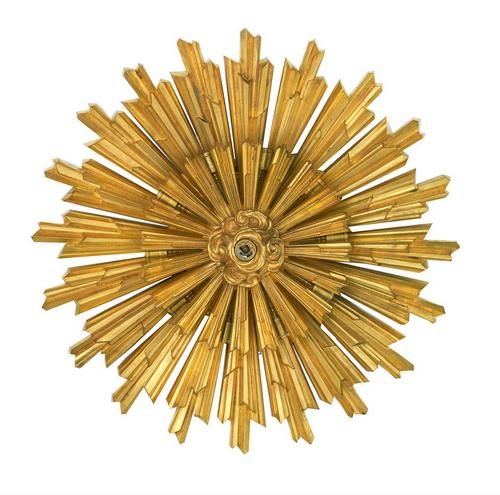 My next choice, lot 976, is an American Aesthetic Movement faux bamboo
dressing
table made circa 1875-1900 possibly by R J Horner, a well-known
furniture maker in New York City
with a pre-sale estimate of $2000-4000. The
dressing table is made of maple and birdseye maple. The rectangular mirror plate
is in a frame modeled to simulate bamboo on like supports are flanked by shelves
and a turned gallery above a case with a frieze drawer over a pair of smaller
drawers which form a kneehole opening. The whole raised on tuned legs that are'
joined by an H-form stretcher. This dressing table is delicate and pretty and
would be quite an addition to a soft palette bedroom.
The last object this week is a very colorful and striking Turkish angora Oushak
(a small town
located in Anatolia)
carpet, lot 1013, that
measures 8' x 10'
with a pre-sale
estimate of
$1000
-1500.
Oushak carpets are highly prized for
their exceptional
texture,
elegant
look and monumental scale of design. The
auction
carpet has an
abstract floral design with a rich slate blue central field with
touches
of soft blues,
salmon pinks and tans. It has an elegant modern feel and
would make a great
starting point for the design of an entire room.
I hope you enjoyed this installment of Auction Finds of the Week. Please check
out my website if you are in need of any kind of professional appraisal of fine
silver,
English
ceramics or decorative arts in general- market assessment,
insurance, estate tax
and donation to see how I work and my qualifications..
I am USPAP compliant and an accredited
member of the Appraisers Association
of
America. Until next time, stay safe and happy hunting and collecting!