AUCTION FINDS OF THE WEEK- FEBRUARY 15TH: FAB! FURNITURE IN BOSTON
by Kelly Keating on 02/14/16
Welcome back to Auction Finds of the Week! This week I am looking at four eclectic pieces of furniture being offered for sale on 27 February 2016 at Skinner's
American Furniture and Decorative Arts
auction in Boston. These 4 items span from the 18th century to the early 19th century. They are all definitely so-called
brown furniture
, a pejorative term given to antique furniture that is considered old-fashioned, out of date and not relevant in today's world. I am as readers of this blog know a devotee of
brown furniture
and I think it is relevant in today's world, not just as a museum display, but as living, breathing objects replete with history that can not only enhance one's surroundings, but also help create a dynamic interior design. Adding an antique piece of furniture into a modern room can foster a lively debate between old and new, past and present and form and design.
The first find this week is lot 92, an 18th century maple slant-lid desk probably made in Rhode Island after 1750 with a pre-sale estimate of $800-1,200. The desk has a valanced, compartmented three drawer interior above four thumbmolded drawers standing on bracket feet. Now of course this piece is not the best example of an 18th century slant-lid desk, but it is honest. It is maple, not mahogany. Its brasses have been replaced and it has an old refinish. Yet, it has its charms and displays candidly the history of its existence. I think that such a desk would be charming and practical in today's interior. It would work well with laptops and wireless printers. Then, when needed one can close the desk and place your laptop in the drawer below the lid. That is what I do with my computer and the Renaissance Revival slant-lid desk in my bedroom. Pair this desk with an Art Deco lamp or a mid-century modern double gooseneck lamp in a chrome finish. I think that would foster an interesting dialogue.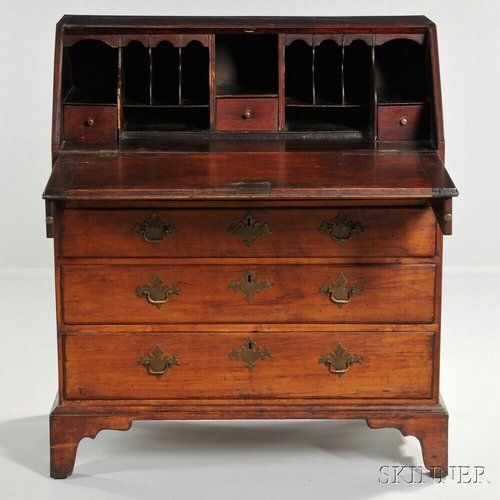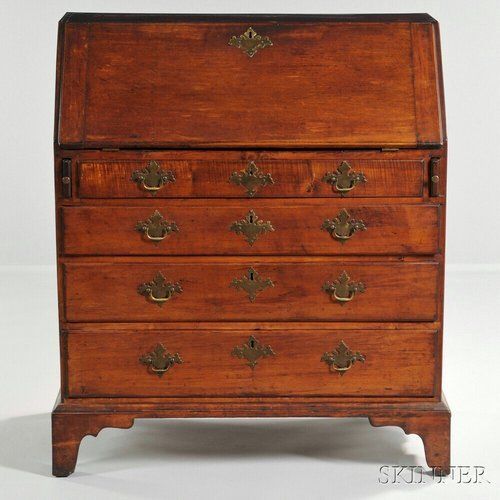 The next discovery this week is lot 127, a birch, mahogany and bird's eye maple veneer elliptical Federal chest of drawers with a pre-sale estimate of $3,000-5,000. The chest of drawers is attributed to Joseph Clark (1767-1851) of Portsmouth or Greenland, New Hampshire and is dated 1810-1814. There are four cockbeaded drawers inlaid with crossbanding and contrasting stringing. Cockbeading was the normal practice for finishing and protecting the edges of drawers. This chest looks very modern to me in its very graphic use of birch, mahogany and that wonderfully figured bird's eye maple. I could easily see it in a modern interior with a lamp of 20th century design placed on top.
The third treasure this week is lot 328, a circa 18th century painted maple and pine tavern table with a pre-sale estimate of $800-1,200. The tavern table has a rectangular top over one drawer standing on block turned legs with square stretchers. The table is painted a light green and dark blue with wear that gives it a lovely patina and story. Why not create the design and color of a room with this tavern table as the starting point?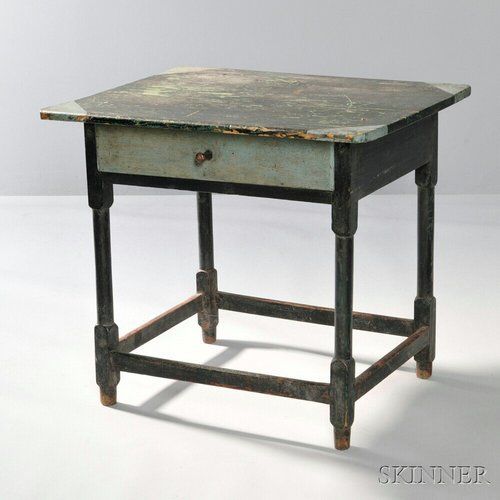 The final find this week is lot 187, a pair of early 19th century mahogany and mahogany veneer footstools with a pre-sale estimate of $400-600. The stools were probably made in Massachusetts circa 1825 and feature double scrolled legs joined by a turned stretcher with an upholstered rectangular seat above. I love the dynamism of the legs and one could recover the stools in a colorful, print fabric or go sleek with a textile that is neutral and textured. I would like to see these stools positioned under a simple metal and glass console.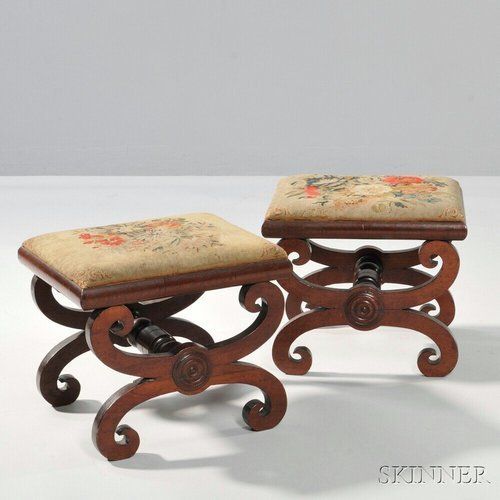 When designing your interior space, think about adding a piece or two of dreaded
brown furniture
. This addition will bring a spirited quality to the room and create a dynamic conversational space. If you would like help in finding an antique or vintage item from an accessory to a piece of furniture, please contact me at
[email protected]
and I can work with you.
Visit
my website
which details the other services I offer and how I work with my clients. I not only source antiques, but I can also help you sell your antique and vintage items. And my main pursuit is as an appraiser of fine American, English and Continental silver. If you need an appraisal, please contact me.
Until next time,
Kelly T Keating
Accredited member of the Appraisers Association of America