AUCTION FINDS OF THE WEEK- FEBRUARY 25TH: UNUSUAL DECORATIVE ARTS IN BOSTON
by Kelly Keating on 02/25/16
This installment of Auction Finds of the Week returns to Boston for Skinner's
American Furniture and Decorative Arts
sale to be held on 27 February 2016 to look at four very unusual and distinctive decorative arts lots. The
last installment
of Auction Finds of the Week featured four pieces of furniture from this same upcoming Skinner sale. This week's finds all would add a unique presence to a room and certainly be a point of conversation and focus.
The first discovery this week is lot 475 with a pre-sale estimate of $300-500, a 19th century painted sled. It has a red stained frame with iron runners and a blue deck with red striping. The deck is decorated with a brown dog depicted in the center and a wonderfully abstract design in yellow. The whole piece has a wonderful patina. I would love to see it hung over a mantel or sideboard in place of a painting or mirror. Use its colors to design the whole room. It would add a touch of whimsy and history to the space.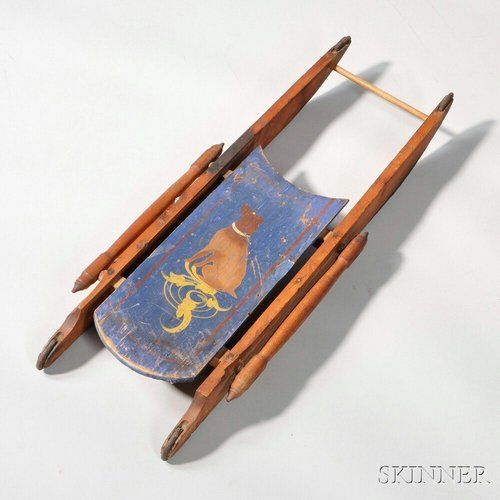 The next find this week is lot 476 with a pre-sale estimate of $800-1,200, a large (19" H x 72" W) rectangular, vintage advertising sign which states: "The Ladies Shop Women's Apparel" lettered in black, red and orange with very smart drop shadowing on a white ground. The whole is surrounded by a green and black molded frame. Old advertising can be a great addition to an interior space and the modern graphic nature of this particular piece would work well in today's settings. Like the sled, this sign would look fantastic over a mantel or sideboard instead of a painting or mirror and would become the dynamic focal point of the room.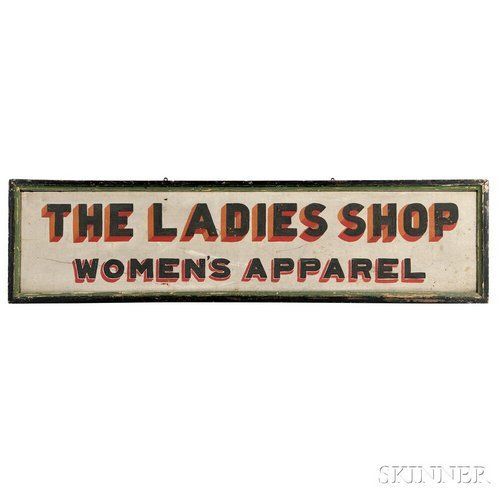 The third discovery this week is a bit macabre, but still quite fascinating. Lot 405 with a pre-sale estimate of $300-500 is a pair of 19th century carved and painted hearse finials. The finials are black painted pine (with most of the original paint now gone) in the form of draped urns with flame finials. The hearse finials stand 14.25" tall and could be used on a mantel or sideboard or as objects to mix in with books in a large bookcase. Certainly this item is not to everyone's taste, but could appeal to those who like the unusual and different.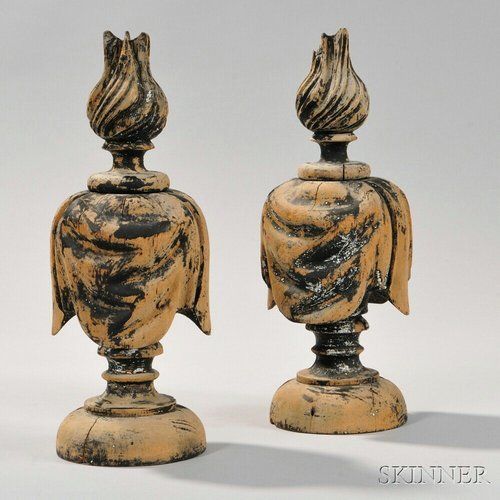 The final treasure this week is lot 451 with a pre-sale estimate of $1,500-2,500, a late 18th century carved and painted milliner's head. The woman's head is subtly carved and painted depicting her facial features, jewelry and dress details. She wears a silk and linen bonnet with metallic sequins and thread decoration and stands 12" tall. A very expressive and evocative piece, it could find a new home on a mantel or sideboard or in a large bookcase.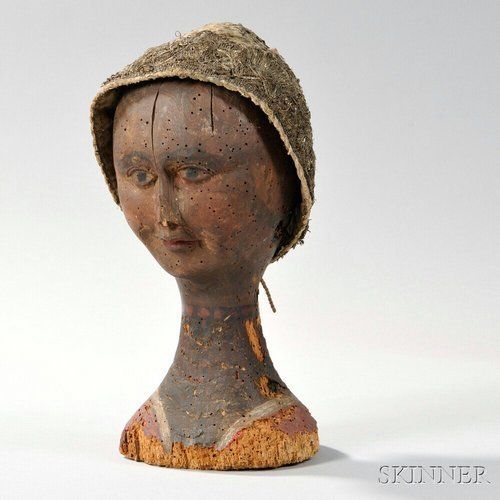 I hope you enjoyed this week's auction finds. When designing your space, think about using objects other than ceramics, glass and artwork to accessorize the setting. Why not hang an old sled on the wall or find a graphic, vintage advertising sign that can add an unique quality to a modern space. Look for unusual items like store displays and other commercial items such as the milliner's head and the hearse finials found at Skinner. Such pieces will become a focal point and conversation piece for your room.
If you would like me to help you find distinctive accessories for your room contact me at
[email protected]
and visit
my website
to see how I work. I am also an accredited appraiser USPAP compliant for fine American, English and Continental silver. If you need an appraisal of your silver, please contact me.
Until next time,
Kelly T Keating