AUCTION FINDS OF THE WEEK- JUNE 24TH: WHAT'S COOKIN' IN THE KITCHEN IN CINCINNATI, OHIO?
by Kelly Keating on 06/24/16
Welcome back to
Auction Finds of the Week!
I have been quite busy lately with a variety of consignments of antique and vintage items. If you have antique and vintage items that you would me to sell for you, please contact me at
[email protected]
and take a look at the
Services
page on my website to see how I work with consignments.
This week I found 8 antique and vintage items that I think would look wonderful in a kitchen/great room or just simply a kitchen. These objects will add charm and interest to a place that is often the heart of the house both for families and guests especially if the kitchen is expanded into a great room as is often seen now in newer construction. Vintage and antique pieces can give a sense of permanence and warmth to these large, new spaces. All the finds this week are from
Cowan's Auctions
in Cincinnati, Ohio from their
Spring Americana and Decorative Art Sale
which is taking place on 24 and 25 June 2016.
This week's first find, lot 163, is a pair of Currier and Ives hand-colored lithographs of fruit entitled Summer Fruits and Autumn Fruits. Each print measures 12.25" x 17.5" unframed and date to the second half of the 19th century. Pictured here is the print entitled Autumn Fruits. You will notice that the bunch of grapes on the right has not been colored. While some might see this lack of color there a drawback, I think it imbues the lithograph (there are uncolored grapes in the Summer Fruits print too) with a certain charm and naivete of the hand done and the unfinished. The pair of lithographs have a pre-sale estimate of $200-400. With their bright colors and rendering of fruit I think they would look great in any kitchen.
This week's second discovery, lot 208, with a pre-sale estimate of $250-500, is a pair of four color jacquard coverlets (1 pictured here) made in Ohio in the mid-19th century and signed by Dennis Cosley who was born in 1816. Each coverlet is in red, blue, green and white with rose medallions and lovely fruit and flower basket borders. The design of both is rich and intricate, yet not overpowering. One of the coverlets could be used as an intriguing wall hanging for a great room attached to a kitchen. It really couldn't be hung in the kitchen itself where it would absorb all the smells, smoke and gunk from cooking.
This week's third treasure is lot 242, with a pre-sale estimate of $200-400. It is a whimsical vintage advertising item from the early 20th century. An advertising display features a standing cow with a bell and bucket on a wheeled cart. The cow is labelled Sneezy underneath the bell which must be his name and affixed to the cart is metal plaque for the Snee Dairy Co. of Pittsburgh, PA. The whole piece measures 18" high x 24" long. Why not put Sneezy on the big kitchen island for some added interest. Or if there is a mantelpiece in the kitchen/great room make Sneezy the centerpiece. A wonderful piece with great character.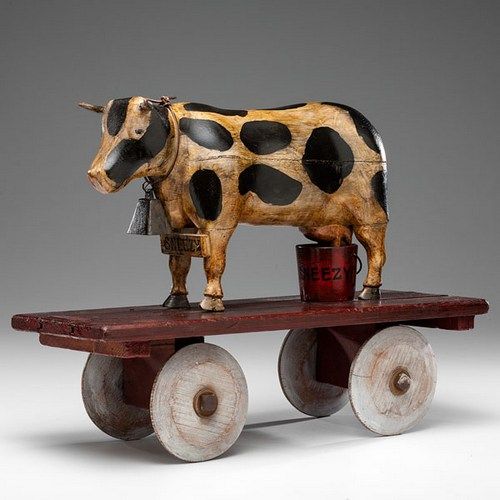 The fourth discovery this week, lot 247, with a pre-sale estimate of $200-400, is another advertising item- a delicatessen trade sign from the 20th century and originating in Dayton, OH. The wooden, hanging sign has a rectangular form with stencilled black and green letters on a cream ground. The sign is 12" high and just over 6 feet long. What a bold piece for a kitchen or over the mantel of a great room. The graphic quality of the sign feels quite modern and would work even in more sleek kitchens of all stainless steel.

This week's fifth find is my favorite of the 8 finds although it does not have great age, provenance or value. Lot 253 is a stencilled wooden hanging spice cabinet with a pre-sale estimate of $200-400. The spice cabinet has 4 drawers with porcelain pulls over a lower lift-top compartment. Each drawer has an internal divider and each is stencilled with the name of some ingredient like cloves or allspice. I think it is charming and would have it on my kitchen wall in a hot minute. It's a sweet decorative piece that is also functional.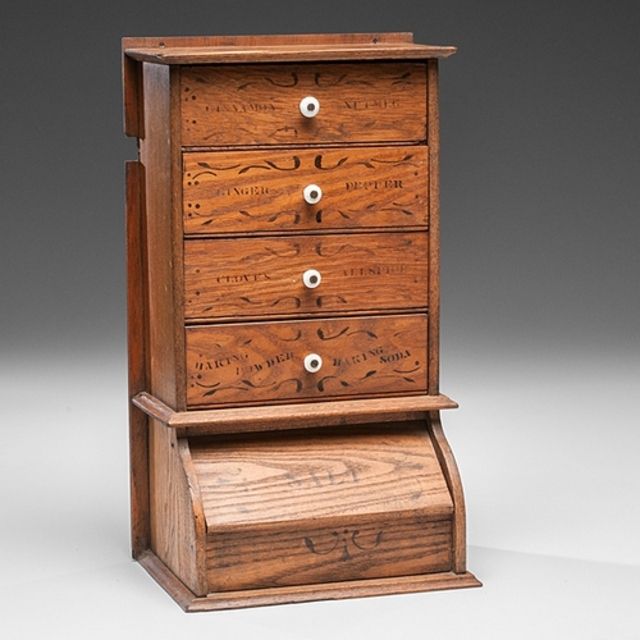 What's a kitchen without a stylish rooster? Lot 294 is a painted rooster weathervane with a pre-sale estimate of $200-400. Proudly standing 18.5" tall, the weathervane is made of sheet metal and is painted gold with red accents. It looks like something homemade in the garage and even though the surface probably isn't original, it has a wonderful presence. Hang it in the kitchen over the stove or put it on a great room's mantelpiece.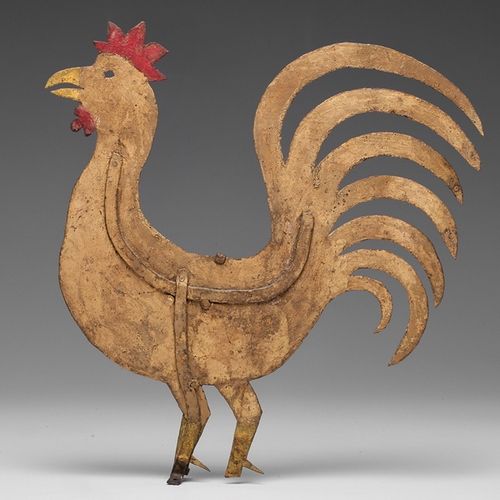 The sixth discovery this week is lot 379, with a pre-sale estimate of $150-300. It is a small scale Kenton Marvel toy stove made of cast iron with copper highlights. It is a sweet, small size only being about 13" wide. It has the look of an antique stove with lots of detail. A great accessory for the traditional modern kitchen.
The final treasure this week is lot 704 with a pre-sale estimate of $600-800, a wonderful painting called The Quilters by the American painter Frank McElwain who was born in 1942. The Quilters was painted in 1994 and measures 23.5" x 29.5" sight. The work depicts 3 women in hats working on a large quilt outside under an arbor. It seems to be scene of a bygone era. There is quiet sense of purpose to their work. McElwain creates an overall abstract pattern with the color and texture of the ladies' blouses, the quilt and the flowers on the arbor punctuated by the black color of the ladies' skirts. I think it is a wonderful idea to have a painting such as this one in your kitchen or great room.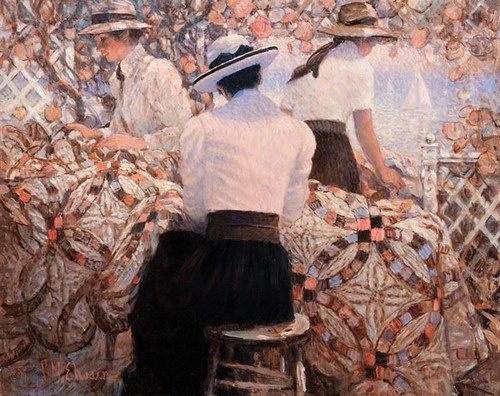 I hope you enjoyed this installment of Auctions Finds of the Week. When designing your kitchen or great room, try to add some vintage or antique objects to give the space warmth and distinction. Even if your kitchen is totally sleek and modern and full of stainless steel, why not add a great vintage advertising sign like the delicatessen sign above that has some history and a patina. It will be a great counterpoint to the smooth, hard stainless surfaces.
If you are looking for a vintage or antique item and you would like me to assist you, please check out the
Services
page on my website for details or contact me at
[email protected]
Also, I can help you sell your antique and vintage items. Details are also on the Services page for consignments.
Finally, I am a USPAP compliant accredited appraiser in all types of silver with the AAA. If you need an appraisal of your silver objects, please contact me and see the Services page for details.
Until next time,
Kelly T Keating