Auction Finds of the Week: Fantastic Objects at Doyle New York 11 June 2020
by Kelly Keating on 06/08/20
Welcome back to
Auction Finds of the Week
after a long hiatus. This week I look at the quite lovely upcoming
English & Continental Furniture, Silver & Decorative Arts
sale at
Doyle New York
on 11 June 2020 starting at 10am. My five discoveries this week include furniture, painting, porcelain and an antique textile. If any of these items interest you and you would like assistance in bidding on them or any other object in the sale or have questions, contact me at
[email protected]
and consult my
website
.
This week's first find, Lot 1101, is a pair of English yellow-ground porcelain bough pots and covers dated to the first quarter of the 19th century. The D-shaped form is decorated with a lovely hand painted basket of purple and lavender flowers in the center of the pot curve flanked by rectangular panels with gilt decoration. THe whole is raised on 4 bun feet. Each measure 7.5" H x 9" W x 4.125" D and have a pre-sale estimate of $200-300. The pots can be used to hold flowers or blossom branches and would be wonderful on a mantel with white or raspberry pink flowering branches perhaps in a raspberry room. The contrast with the bright yellow ground of the bough pots would be quite striking.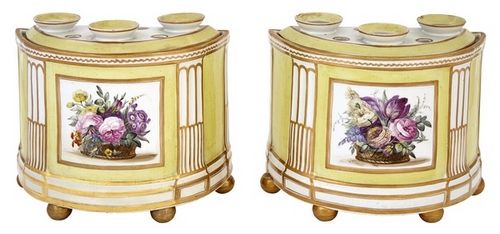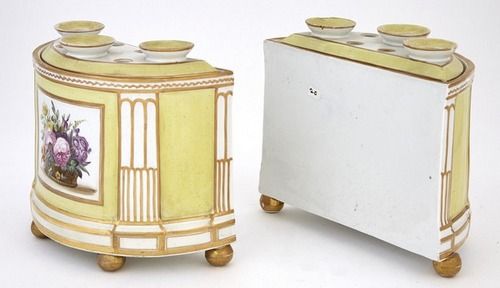 The second find this week is an intriguing and archaic piece of dining room furniture, lot 1106, a George III mahogany cheese coaster circa 1800 with a pre-sale estimate of $400-600. The cheese caster is a dished crescent form raised on 4 leather casters. The coaster would hold a large and heavy wheel of cheese that could then be moved around the dining table with ease for guests to partake of the cheese. What a wonderful and different centerpiece it would make for a dining room or kitchen table filled with fruit or flowers. Thee cheese coaster measures 7"H x 17"W x 10"D.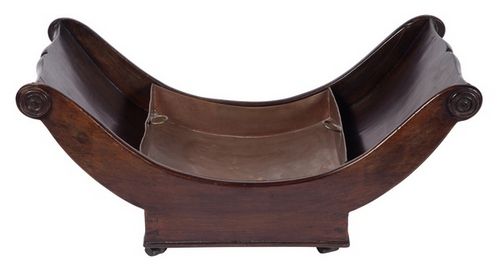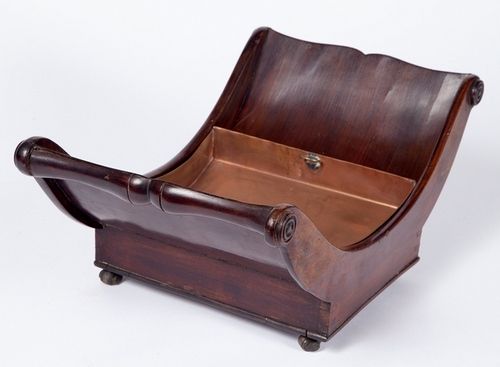 Lot 1102 is a pair of Chinese Export reverse paintings on glass depicting figures in a lush landscape from the first half of the 19th century with a pre-sale estimate of $800-1200. The pair nicely retain their original Chinese black lacquer and gilt frames. This pictures would work well in a gallery wall design incorporating works of different mediums and different origins. The paintings measure 11.75" x 17.25" sight and 14" x 19.25" framed.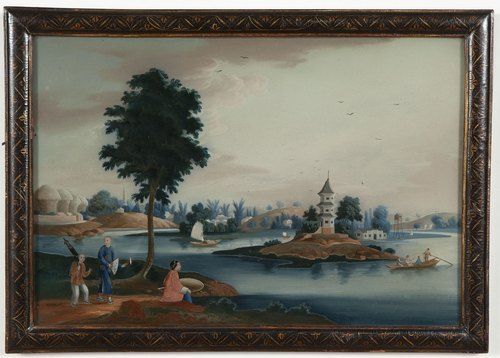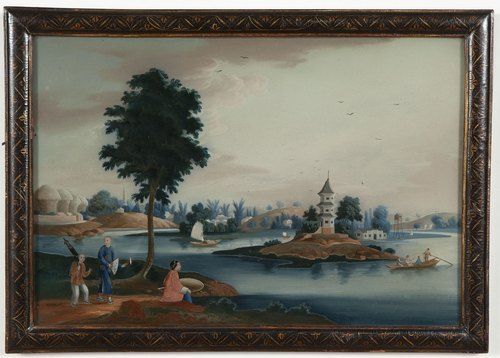 The next selection from the Doyle auction is Lot 1247 an 18th century French Aubusson tapestry panel measuring a large 8 feet x 7 feet with a pre-sale estimate of $2000-3000. The tapestry fragment features a pair of lovers seated in a wooded landscape accompanied by their faithful dog. Cupid who is also present has dropped his bow and arrow and is tugging at the man's cloak as if to say, "This one is not for you!" It would be fantastic to design a whole living room or dining room around this object making it the central focus and the starting point for colors etc. Perhaps pair it with more modern furnishings to create a dynamic and vibrant look.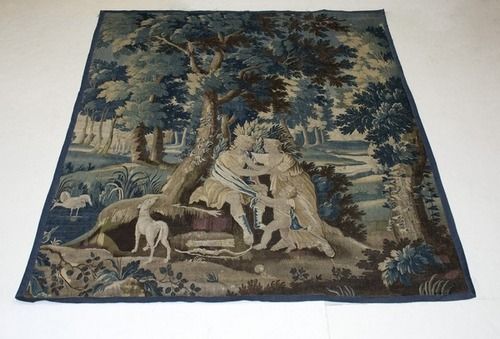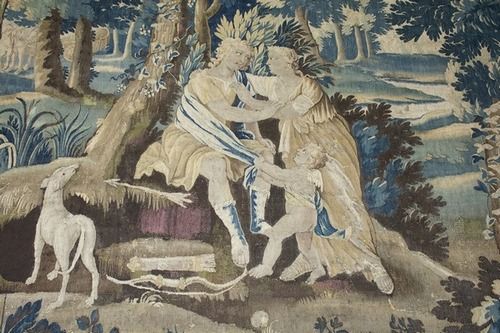 The last find of the week is a very sweet, but very sophisticated small mid-18th century Louis XV amaranth parquetry and ormolu mounted secretaire. Lot 1186 has a pre-sale estimate of $4000-6000. Amaranth is a purplish wood much favored by French cabinetmakers. This secretaire is stamped MIGEON for its maker Pierre IV Migeon who became a Master of his craft by 1729. The piece consists of a three quarter galleried rectangle top with two quartered veneered panels set above an undulating case fitted with a secretaire drawer opening to a hinged flap and a polished writing surface and drawers over a kneehole recess flanked by two short drawers. The whole raised on cabriole legs ending in ormolu sabots. The secretaire measures 33.5" H x 39" W x 16.25" D. It's small but functional size would work in many spots in a living room or chic office.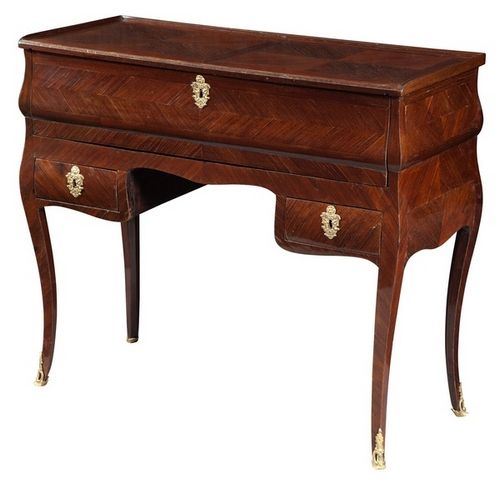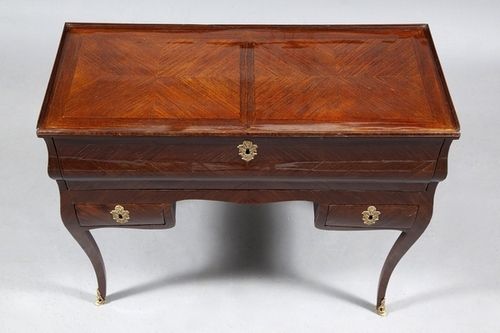 Thank you for joining me for
Auction Finds of the Week
! I hope you found an object you like or one that simply inspired you in the creating of your own decor for your own space. If any of these items interest you or any other item in the Doyle sale on 11 June 2020 and you need assistance bidding etc, please contact me at
[email protected]

.
Also contact me if you need any type of
appraisal
of your decorative arts particularly silver and English ceramics. I am a USPAP compliant appraiser accredited by the Appraiser's Association of America. Check out my
website
for further details. Happy Auctioning and stay well and safe during this difficult time of the pandemic.
All the best, Kelly T Keating
The Antique Flâneur