Auction Finds of the Week: Shining Silver in Object & Home at Rago 14 April 2021
by Kelly Keating on 03/31/21
Welcome back to Auction Finds of the Week: Shining Silver in the Object & Home Sale at Rago on 14 April 2021 at 11am. This week I have chosen all silver objects because not only am I an accredited silver appraiser, but also because I am a crazy silver collector as well. The five objects I've chosen were all made in the 20th century and 4 of the lots are silver examples from countries other than the United States. So, let's take a look at what I've chosen and always remember silver is meant to SHINE!
This week's first find, lot 122, is a sterling silver 4 piece tea and coffee service by the Danish maker George Jensen dated to the early 20th century. The service consists of a coffee pot, a teapot, a creamer and a sugar. The Formica topped tray is an associated piece and not original to the set. The tea and coffee service pieces have a wonderful bulbous shape and the teapot and coffee pot have a side handle made of enameled ebony. This set has a pre-sale estimate of $1500-2000. Tea and coffee services seem terribly out of fashion today. One probably thinks of a fussy Victorian service that was maybe owned by your grandmother. This set is certainly not fussy. It is sleek and modern and your guest will always appreciate being served tea or coffee from a beautiful, shining silver pot rather than the glass pot from the coffee maker pot or making a cup of tea with a teabag.
If you are having a dinner party or a brunch, a beautiful sterling silver pitcher is a very useful item. Lot 104 is a sterling silver pitcher with a pre-sale estimate of $3000-4000 by William Spratling who worked in the States as well as Taxco, Mexico. This pitcher dates to circa 1940. It has a beautiful, globular chubby shape with an inspired ribbon handle along with repousse schematic flower blossoms on the body of the pitcher. A truly gorgeous piece of silver by a renown silversmith.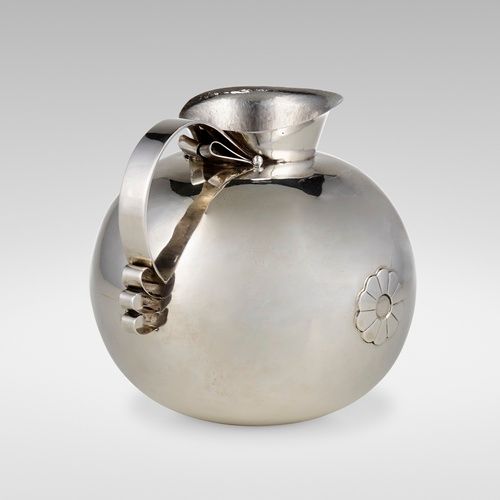 Stylish bar carts have become all the rage lately and to make your bar cart more stylish you need some unique and interesting barware. At least one singular cocktail shaker is essential. Lot 145, a silverplated brass rooster! cocktail shaker by the Napier Company, circa 1945 would certainly fit the bill. It has a pre-sale estimate of $700-900. The rooster head is simply, but effectively rendered. Time for a drink!
For your dinner party, you will need candlesticks to illuminate the scene. Lot 103 is a pair of sterling silver 2-liight candlesticks by the Mexican silversmith Antonio Pineda with a pre-sale estimate of $3000-4000. The pair date to circa 1955-1960. These sticks are a wonderful size for any dining table: 16" tall x 13.5" wide.
Now that you have a pair of candlesticks, your dining table needs a centerpiece bowl for flowers or fruit. Lot 126 is a centerpiece bowl with a pre-sale estimate of $1000-1500 made by the Danish silversmith Johannes Siggaard for the firm C C Herman. The bowl was made in 1945. It has a oval shape measuring 13.5" wide x 8.5" deep and a lovely open work foot. It would look stunning with flowers or some preserved boxwood balls of different sizes.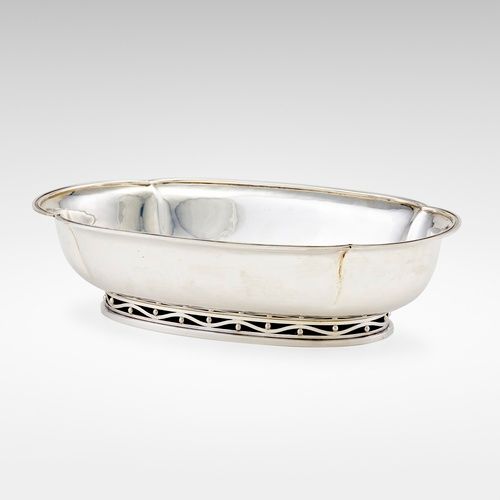 I hope you enjoyed this all silver Auction Finds of the Week! I think my favorite object this week is the rooster cocktail shaker by the Napier Company. It's humorous and whimsical and would certainly cause a conversation around your bar cart. If you are looking for a special piece of silver, I can source it for you. Or perhaps you need an appraisal of your silver collection for insurance, donation, estate tax, market assessment etc. Take a look at
my website
and you can read about my credentials and learn how I work. I also help clients sell their antique and vintage items.
Happy Passover!
Happy Easter!
Until next time,
Kelly T Keating
The Antique Flâneur