Dreaming of Fabulous Finds in the Sun: Traditional Furnishings & Old Masters at Michaan's Auctions in California
by Kelly Keating on 03/13/21
Welcome back to another
Auction Finds of the Week
- Dreaming of Fabulous Finds in the Sun: Traditional Furnishings & Old Masters at
Michaan's Auctions
on Friday 19 March 2021 at 1:00 pm EDT in Alameda, California. In this post we delight in a French 19th century oil painting. A massive oak vitrine cabinet does not intimidate us. We find a pair of vibrantly colored glass lamps to inspire an entire room design along with a pair of quirky decorative boxes both with a secret that would enhance any space. Finally, a decorative and stylish rock crystal pair would adorn a mantelpiece or a coffee table.
This week's first find is lot 3003, a 19th century oil painting entitled Desserts pour les enfants by Adrien Emmanuel Marie (1848-1891) with a pre-sale estimate of $5000-7000. The work measures 37" x 46" and 40" x 49" framed. In this frenetic scene, the calm maid brings out a tray of desserts for some obviously well-off and well-dressed children. The three older children, a boy and two girls descend on the tray to claim their treat. Their younger sibling on the left lets out a scream because he or she is being left out of the dessert course. Another younger child on the right who is mostly obscured by the maid holds the dessert in his or her hand and looks at the maid with gratitude. Desserts pour les enfants is a delightful genre painting, nicely executed and I think if it hung on your wall, you would never tire of it and it would always engender a smile.
This week's next find is a massive 19th century American Renaissance Revival carved oak vitrine cabinet, lot 3282, with a pre-sale estimate of only $400-600. The cabinet measures 95" high x 51.5" wide x only 19" deep. The crown is carved with a grotesque mask over 2 glazed doors with oval cartouches carved with an easel and paper and pen motif. The doors are flanked by carved female figures each holding a book. Another grotesque mask is located on the base and the whole stands on bun feet. Such a large piece of furniture would command the focal point of any room. Perhaps fill it with silver which would look striking against the dark wood of the cabinet. Allow this piece to be the centerpiece of the room and surround it with simpler and complimentary furnishings.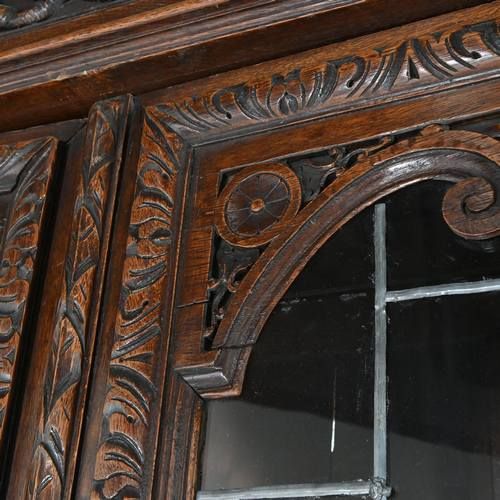 My third pick this week is lot 3168 a pair of Neoclassical style gilt enameled glass vases made into table lamps with a pre-sale estimate of $400-600. The lamps are most likely Italian mid 20th century in date. The glass vases have a long neck with a shorter base and are reverse painted with a green/blue enamel to the interior of the vase. The exterior of the glass vases are stenciled with a band of anthemia and palm leaves which are Neoclassical motifs. The glass vases stand on a ribbed round foot with a stepped base. The lamps measure 27" to the top of the harp. These lamps and their blue/green color could be as a staring point in the design a room. Their distinctive color and appealing traditional style would be a good design inspiration.
Lot 3107 is a pair of French 19th century leather book objects- a letter holder and a tantalus- that fool the eye with a pre-sale estimate of $400-500. What looks like a stack of books reveals something else. The decanter set is hidden in the bodies of 5 books, amusingly with spiritual titles. The letter holder is hidden in a portable book shelf containing tooled leather books. Both are great objects for a coffee table or book shelf. Amuse your friends with the secrets these books contain.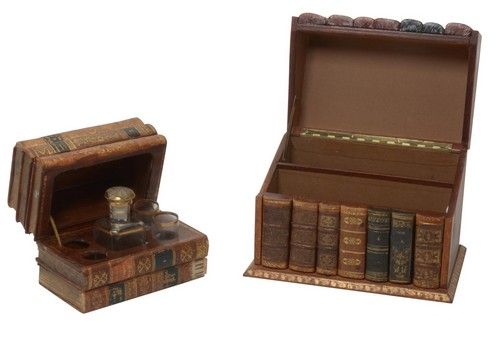 The final find this week, lot 3100, is a pair of tall rock crystal obelisks of classic form with a pre-sale estimate of $1800-2000. Each obelisk stands 20.5" tall. I would love to see these obelisks on a coffee table or a mantelpiece. As a material, rock crystal oscillates between hard and soft, opaque and transparent as it makes up this classical shape.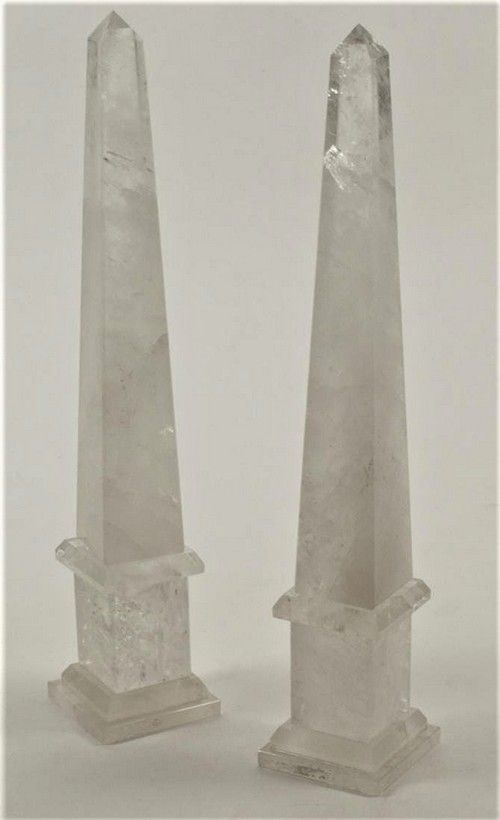 I hope you enjoyed this edition of
Auction Finds of the Week
! Please checkout my
website
for the services I offer from all types of appraisals of fine silver and English ceramics, to helping you sell your antique and vintage items to sourcing antiques and vintage objects too adorn your home.
Kelly T Keating
The Antique Flâneur