Auction Finds of the Week Returns: Thursday Morning at Stair 25 February 2021
by Kelly Keating on 02/23/21
Welcome back everyone! I hope everyone is safe and well during the very difficult time of the pandemic. Besides feeling I was existing in a Walking Dead narrative, I have been watching and participating in many wonderful webinars on all types of topics especially British and French ceramics and I have been perusing many auctions to learn and to be inspired by the objects I see during this crazy and difficult time.
Stair located in Hudson, New York is one of my most favorite auction houses continually offering intriguing and quality goods. Their weekly estate auction entitled
Thursday Morning at Stair
is always filled with great stuff. This week's auction is on 25 February 2021 starting at 11am. You can bid through the Stair
website
or also on
LiveAuctioneers
. Here are 5 lots which I found appealing and unusual, but not exorbitant in price/estimate.
The first find is Lot 12 a Victorian style ebonized and luggage color leather tete-a-tete with a pre-sale estimate of $1000-1500. This tete-a-tete can comfortably seat 3 people, so perhaps we should name a Trois Tetes. Although lot 12 is not a period Victorian piece, it certainly plays the part. The leather upholstery gives it a decidedly modern feel. One could replace the leather upholstery with a tapestry fabric for example to get a whole different antique Victorian look. I would love to see the Trois Tetes be the starting point in the design of an entire living room. It would certainly be the showpiece of the space.
Lot 3 a brass and marble drinks table by John Bonne with a pre-sale estimate of $200-400 was next on my list of discoveries. Boone is a well-known and respected furniture designer in New York City. The drinks table measures 21.75" x 12.25" in diameter. It evokes the Chippendale aesthetic in the use of a tripod base ending in slipper feet and an abstracted version of a reeded column as the main support of the table. This John Boone table is smart and elegant and could be placed anywhere needed in the living room. (Note as of late 23 February the drinks table has already been bid up to an impressive $1400.)
The next discovery at Stair is Lot 40, an Art Deco style chrome table lamp with a pre-sale estimate of $200-300. The table lamp measures 23" high x 6" in diameter. It has the look of a skyscraper of several cylinders bound together and with the right shade, perhaps a black fabric drum shade, it could work well in a living room or bedroom. Stylish and sleek.
Continuing with the Art Deco theme, Lot 65 is a period American Art Deco metal-mounted mahogany drinks cabinet with a pre-sale estimate of $300-500. The rectangular bar compartment with 1 fitted glass shelf stands over 2 drawers featuring single metal drawer pulls with the whole raised on a footed plinth. The drinks cabinet measures 32" x 26.25" x 17". This cabinet is a great size for a small New York City apartment or put it unobtrusively a larger living room where it could stylishly perform its libation function without overtaking the whole room. To me, this piece is simple and stylish and demonstrates quite well the Art Deco aesthetic.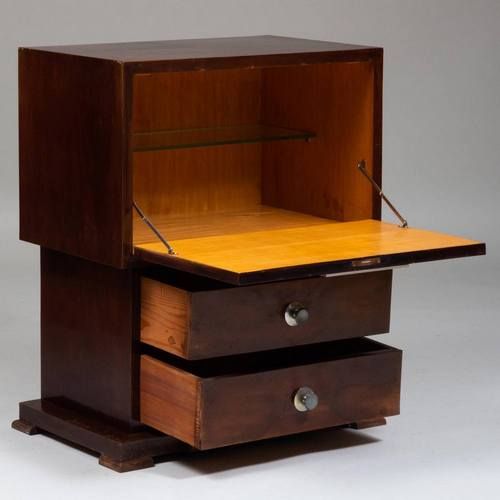 Of course your new American Art Deco bar cabinet needs a suite of superb cocktail implements in glass and silver so that the inside of the cabinet sparkles. Lot 318, a Danish A F Rasmussen .835 silver grade cocktail shaker after 1947 with a pre-sale estimate of $300-500 would perfectly complement our drinks cabinet with its geometric paneled construction reminiscent of the rectangular construction of the bar cabinet. The cap of the cocktail shaker has a lovely decorative monogram of entwined L's like the mark one finds on 18th century Sevres porcelain. Any of your guests I am sure would be delighted to be served a cocktail from this elegant shaker.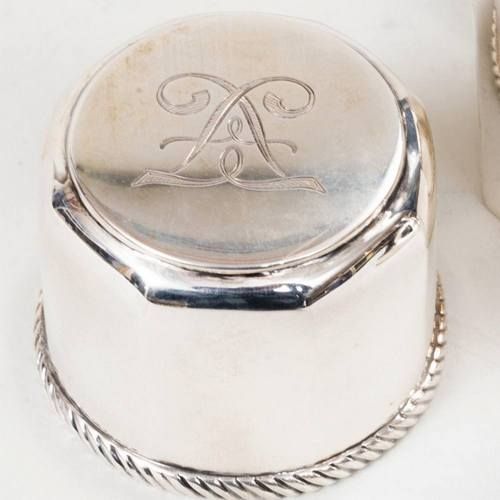 I hope you enjoyed this Auction Finds of the Week featuring items from Stair in Hudson, New York. The sale begins at 11am on Thursday 25 February 2021 if any of these lots interest you.
Also, if you are in need of an appraisal (insurance, donation, estate) for fine silver or English ceramics please contact me. You can visit my
website
for further information about how I work and my qualifications.
All the best to everyone and stay safe during this difficult and trying time of the pandemic.
Kelly T Keating
Accredited Appraiser in Silver
Appraisal Association of America
USPAP compliant until the Spring 2022