Is Silver Archaic and Obsolete?
by Kelly Keating on 03/21/17
Today silver is seen as an unnecessary or extraneous item that is not needed for one's home and table. Whether sterling or plate, no one wants to care for silver or polish it. The belief is that silver care is difficult, arduous and time consuming. And of course silver cannot go into the dishwasher or the microwave.
Few modern brides register for a silver pattern for their wedding these days. Perhaps there are a few holdouts in the South. A good stainless set is the way to go. It can be used every day as well as for special occasions because no one uses special occasion china or flatware any longer. Growing up, I always loved it when my mother was preparing for a birthday or holiday meal all my eager help of course. We used the good plate flatware from my grandmother and gently polished it. Out came the good china from the vintage Louis XV style cupboards. A linen cloth and complementing napkins were chosen. The quite tall pair of Reed & Barton plate candlesticks also from my grandmother were given a last minute shine to illuminate the table. These fond memories from my childhood aren't enacted much by the younger generations today, but I continue my mother's traditions in my own house.
I set a mean table even when I am just having a few people over for dessert and coffee. I select antique Rococo inspired or Neo-classically themed porcelain plates with a coordinating flatware whether in sterling or plate. My guests always appreciate my efforts and there is always discussion or questions about a certain pattern or style. I'm sure there are a few other silver holdouts like me out there in the world. Here is my table recently set for a simple luncheon. As my mother always says, "Give me a cheese sandwich, but on a pretty plate."
Mostly I suspect when people think of silver, they think it has to be a fussy, elaborate, overwrought, 19th century and Victorian. But that is simply not true. Take a gander at the novelty Georg Jensen silver centerpiece designed by Verner Panton manifested as a crumpled piece of paper from 1989. Superb and so unexpected and so casual. Imagine this piece on your simple and traditional dining table with some interesting, even 19th century candlesticks. The contrast would be dynamic. The piece measures 4? x 22? x 18?, a perfect size for a centerpiece.
Silver can also have a sense of humor. How about an Art Deco Napier Silver Penguin Cocktail Shaker circa 1936. What could be more fun than penguins and cocktails? And a frosty tub of ice in a 19th century Gorham sterling silver ice bucket!
Gorham produced some wonderfully sleek and modern design pieces. In 1958, inspired by the launch of Sputnik and the Apollo moon mission, Donald Colflesh designed a tea and coffee service entitled Circa 70 for Gorham in Providence, RI. This set from 1965 features a coffeepot, teapot, sugar, creamer and tray with a great futuristic look and a contrast between the ebony handles of the pots and the base of the tray and the sterling silver.
Colflesh also designed for Gorham a pair of Circa 70 3-light candelabra, 1960 (8.25? H x 9.25? W). One can see the influence of the Space Program on these pieces as well particularly in the contrast between the sterling silver and the ebony finial and feet. This candlestick pair looks like some kind of robotic rovers about to scurry across the lunar surface.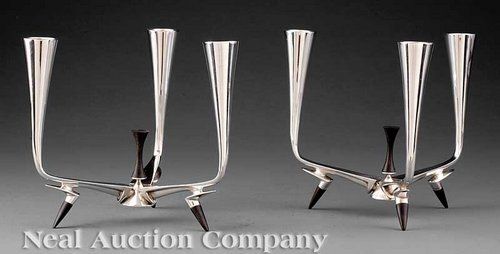 Yet, do the Circa 70 sticks and tea and coffee set continue to evoke a modern feeling 57 years after their production? Or does their evocation of the moon landing create a sense of nostalgia and loss for a space program that no longer has that ambition. Not modern, but past. For me, it oscillates between the two which makes these pieces of 1960?s silver even more dynamic and more modern to my eye in their fluctuation not their date of production and design or philosophical considerations.
Here are 2 more wonderful Colflesh designs from the Circa 70 series:
Colflesh Delta Bowl from the Circa 70 series for Gorham, 1960, sterling silver and ebony, 5" x 12"x 12"
Colflesh Contour Bowl from the Circa 70 series for Gorham, 1958, sterling silver, 7.5" x 7.75" x 6.5"
And one does not have to spend a great deal to achieve a modern silver look. Silver is available at all price points; it is just having a good eye and a degree of taste to find interesting pieces to impart the look you are trying to achieve. And of course there is always silverplate which is often at a lower price point as well.
The silverplate designs of John Prip for Reed & Barton can be found especially at auction at reasonable prices. Prip combined Danish design and harmony with the American desire for innovation. This dynamic is demonstrated by his silverplate Dimension tea and coffee service with a tray with a black lacquer inset made for Reed & Barton. The fluid, organic and bulbous nature of this set standing in contrast to the black lacquer ground of the tray is pleasing and modern at the same time.
Prip continued this modern, organic dynamic in the following 2 pieces of holloware: a circa 1950 7" tall sterling candlestick and a circa 1960 sterling and nickel 6" tall lidded box. The candlestick stands on 4 legs that continue seamlessly into the shaft of the stick and resemble like the split ends of a branch. The cover of the box is sprouting some out of this world sterling fronds.
Silver is not obsolete or archaic or useless. It is about the pieces you find and how you put them together and use them in your particular setting. And care for silver is not hard or frustrating; it just requires a little effort and forethought. So get out there and find some great silver whether you want a modern look like the designs of Prip and Colflesh or you are interested in Aesthetic silver or Neo-classical silver or Arts & Crafts silver or so on and so on…
Until next time.
Kelly T Keating
www.theantiqueflaneur.com
If you would like my help in finding a silver item or items for your home and table, please contact me at [email protected] and check out the Services page of my website to see how I work with clients.
If you have some silver and need an appraisal of your pieces for insurance, estate or donation etc, please contact me.